Event organiser: target Concerts GmbH, Isabellastrasse 8, 80798 München, Deutschland
Event info
25 years after her chart-topping breakout album Oyster, Heather Nova is back with a tour de force
of an album that threatens to knock Oyster off the block as her fans' all time favourite. She's managed to make another raw, beautiful, passionate piece of rock music, that no one can deny shows
she is unexpectedly now at her peak. Who says rock n roll is only for the young?
There have been 8 studio albums in-between; all of them critically acclaimed, and many of them
charting. She has toured consistently in those intervening years, maintaining a loyal fanbase; has
played every major European festival, as well as intimate acoustic gigs in churches and opera
houses, has had her music featured in major TV shows and Hollywood films, released a volume of
her poetry and drawings, and has even been known to show up and play free at hospitals in between tour dates.
Pearl, an album of 11 outstanding songs, recorded in Youth's studio in the mountains of Spain, will
be released in May 2019
"I didn't plan to release an album on the 25th anniversary of Oyster. It just worked out that way.
When I was ready to record a new album, I thought it would be cool to have Youth produce one or
two of the songs, to revisit the vibe and sound we created back then. (Youth produced "Oyster") I
sent him my demos so that he could choose one or two. The message I got back was "Really
beautiful .... I'd love to do them all ...can see the connection to Oyster, but the songs are better!
Much stronger ..deeper insights ....still vulnerable but from a position of strength, Woah - I'm in!".
We discussed going back to a similar sound, while still keeping the record contemporary too. I
think that, just naturally, the combination of each of our innate sensibilities once again came together to create that unique sound we got on Oyster. I couldn't be happier with the outcome.
"My songs have always reflected my inner world. In the period I wrote this album, I got divorced after a 20 year marriage, spent a few years on my own, during which I felt a renewed sense of
peace, independence, and a strong sense of my connection to nature. (The song "Re-wild me"
came out of that) and then, to my complete surprise, fell madly in love.
There are many love songs on the record, full of passion and a renewed lust for life, in particular
the rocking "All the Rivers" and the exquisite, cello-infused "After all this Time" stand out. There are
a couple of songs about divorce; The killer lead track "The Wounds We Bled" is more philosophical
than bitter; it's raw without being angsty, and sounds like something off Fleetwood Mac's "Rumours" . "Some Things Just Come Undone" , with its punchy rock guitars, about having to tell her
son that his parents are separating, is particularly heartbreaking, and will speak to anyone who has
been in that excruciating position. Then there is the sublime "Over the fields": A true full circle from
"Island" on Oyster: "Last year the man I wrote "Island" about (who had abused me) was dying.
When I heard that, I reached out to him for the first time in almost 30 years, to say that I forgave
him. He wrote me an incredible letter of regret and apology for all the pain and suffering he had
caused me. I felt there was a kind of closure. After he died, I wrote "Over the fields"; It's a song of
forgiveness and compassion for a troubled soul that never managed to find its way clear in this life;
A hope for a second chance the next time round."
"A pearl is hopefully what forms inside an Oyster after all the years, the accumulation of experience, the saltwater, the sand."
Heather's new album is indeed a Pearl. Don't miss it!
Location
Im Wizemann
Quellenstraße 7
70376 Stuttgart
Germany
Plan route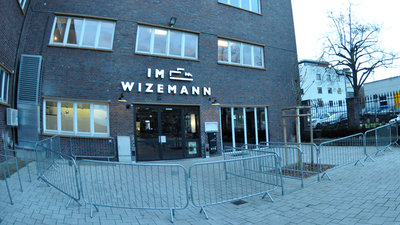 Das Wizemann Areal an der Stuttgarter Wilhelma atmet den Geist der Vergangenheit: Früher war es Heimat einer Firma für Automobil-Bauteile, heute finden sich hier verschiedene kreative, beratende und handelnde Unternehmen. Eines davon ist die Eventlocation "Im Wizemann", die mit einer Halle, einem Club und einem Restaurant aufwartet. Hier finden verschiedenste kulturelle Veranstaltungen statt.

Ende der 1990er Jahre wurde erstmals ein Veranstaltungsort an dieser Adresse eröffnet – das legendäre Zapata. Als dieses 2013 das Areal verließ, rückte das "Im Wizemann" nach. In atemberaubendem Tempo wurde die Location umgebaut und an die Zeit angepasst. Die Halle ist das Herzstück der Anlage und bietet bis zu 1300 Gästen Platz, inklusive aktuellster Tontechnik und allen modernen Annehmlichkeiten. Einen schönen Kontrast dazu bietet das raue Ambiente, welches den Charme des industriellen Zeitalters versprüht. Im Club kann nach der Veranstaltung gefeiert, im Restaurant "Happen" gegessen werden.

Das "Im Wizemann" ist am besten mit der U13 über die Haltestelle Glockenstraße (Mahle) zu erreichen. Mit dem Auto kommt man über die Pragstraße (B10) zum Veranstaltungsort, ab der Quellenstraße ist die Location ausgeschildert. Kostenpflichtige Parkplätze (Veranstaltungstarif) stehen vor Ort zur Verfügung.